Let us collaborate towards a more specific and relevant Environmental Impact Assessment of wool


We want to contribute to a more meaningful representation of the impacts of wool products through a collaboration between brands and within the —value chain. Our ambition is to very practically have a knowledge hub to support multiple supply chains. This hub will focus on the exchange between value chains rather than keeping information within the single value chain.
The vision and goals are from our side to:
Have a common template for collecting data on environmental aspects
Help you collect specific data on environmental aspects
Have a common library of LCI data on wool and material (fabric).
Make common LCA models for the wool and material
Share and discuss impact assessment results.
Have webinars in the hub to share knowledge

This way, companies would be able to more accurately quantify the footprint of their product, more efficiently collect data and be able to support and encourage more sustainable practices in the wool product's supply chain.
Actors within the industry share touch points
MILJÖGIRAFF are consultants in Life Cycle Assessment. We have done several LCA studies of products which use wool as a raw material. In our experience, wool production is a hotspot in the wool products' supply chain when using a third-party inventory database or other sources due to irrelevant references. We have seen that a lot of actors share touch points within the supply chain and therefor we want to bring you together and collaborate to create more specific data.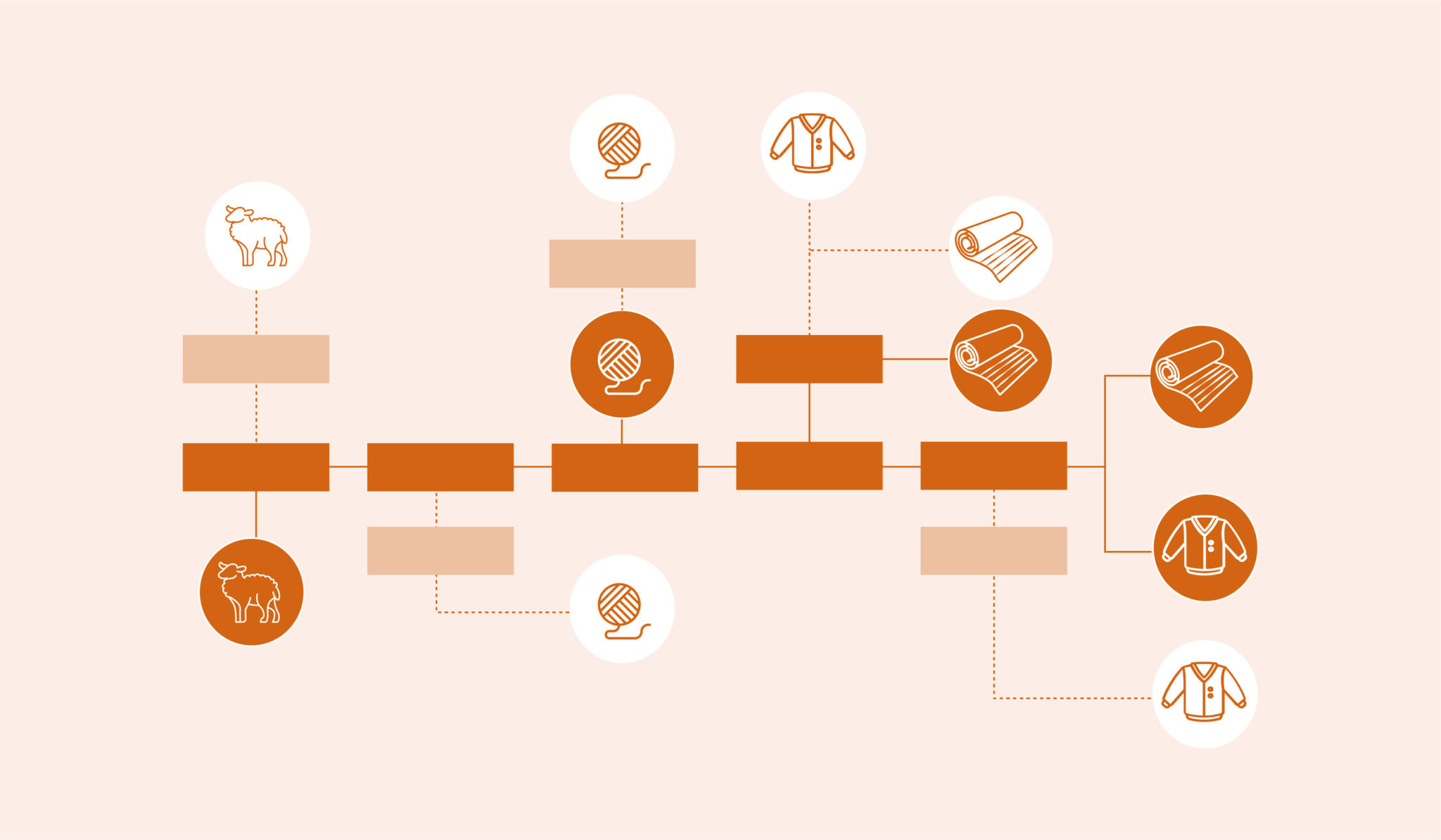 The illustration shows our interpretation of different supply chains sharing touch points and the possibility for us to collaborate by creating a common database.
Do you want to contribute and receive specific data regarding wool supply chains?
We are looking to collaborate with farmers, spinners, knitters, and manufacturers of products made of wool. We also welcome collaboration with stakeholders such as interest organizations that can contribute to knowledge and connections within the wool industry.


The purpose is to share knowledge about data between different actors. In this way, we can create a library within the project group with specific data on processes, geographical aspects and other parameters that are more relevant than existing third-party data. By sharing specific data, actors also share the time and cost of collecting the data. The project is building on a take–give perspective. Confidential data will not be shared, and reported data will be anonym.


Price

40 000 SEK per participating company (includes all phases)

Project phases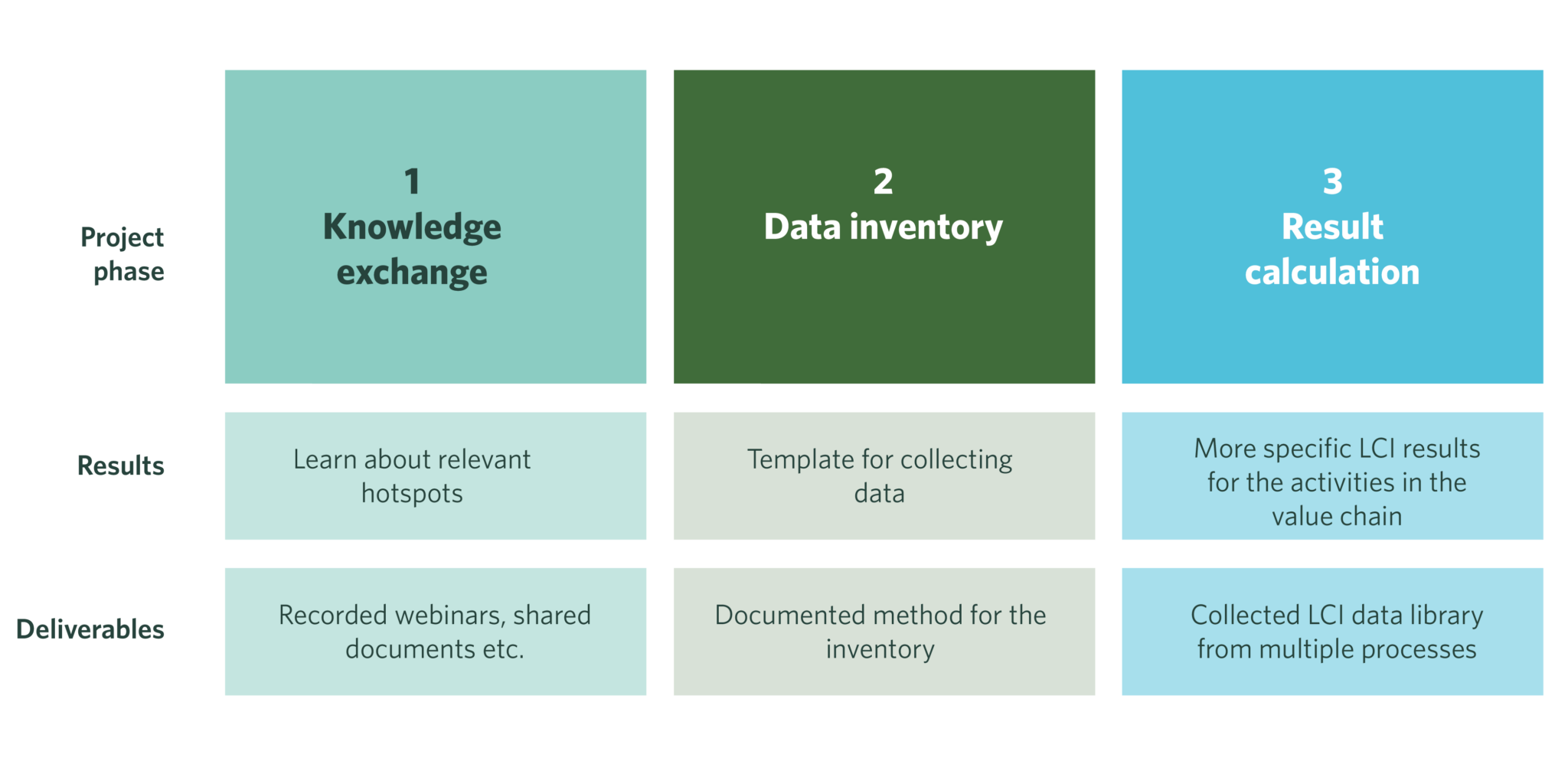 Information meeting about the project (recorded)
The 25th of April Miljögiraff held an information meeting regarding the project where Marcus Wendin presented the project in more depth. Have a look at the recording and get back to us if you have any questions or want to join the project.


To join the project – next step
If you are interested to join the project:
Write an email to marcus@miljogiraff.se and clara@miljogiraff.se with a short presentation about your position and how you or your organization want to contribute. Please answer the questions below:

What is the main reason you want to join the project?
What is your goal and expectations with the project? What would be beneficial to you?
What type of actor are you representing in the supply chain?
What is your core processes?
What type of data do you have access to? Is there any processes you know you want LCI data on or missing?
Is there any theme you would like us to bring up in Phase 1 (Knowledge exchange)? Do you want to arrange a webinar?

If you do not represent an actor in the wool supply chain, we are still interested in collaboration and want to hear your thoughts on how you want to participate or contribute.